Cloud Computing Services
While many organizations today are adopting cloud computing for the cost-cutting and speed-to-market benefits, they will not reap maximum results unless they create a road map for integrating cloud technologies in a broader IT strategy.

IT departments are likely to see their roles gradually shift as business units turn directly to cloud-based solutions. They are likely to experience increased demand for security, procurement, data and similar services.

TradeMax consultancy on Cloud Computing Strategy aims to provide C-level answers about the topic, such as:

What is the cloud computing reality and what is hype?
Which are my options in adopting cloud computing?
What should be my concerns about privacy and regulation?
Are my mission-critical applications candidates for cloud? Which other applications are?

To gain greater agility, transparency and cost control, leading CIOs are embracing an emerging opportunity: migrating their application portfolios to the cloud.

But to maximize the returns from moving to the cloud, Accenture recommends that IT organizations first optimize their application portfolios, which involves analyzing the portfolios to identify the applications that are best suited to the cloud. They can then create a plan for transforming operating models and the IT organization to become much more cloud-friendly.Benefits of the Cloud Application System

TradeMax Consultancy team on Cloud can help you capitalize on the cloud by providing the following benefits:

Speed: Reducing migration time by approximately 15 to 20 percent when simultaneously moving whole sections of the application portfolio (such as sales and marketing applications) to Force.com, which is salesforce.com cloud platform.

Cost control: Using a common framework to reduce development, infrastructure and maintenance costs.

Operational excellence: Enabling you to dedicate more IT resources to innovation rather than maintenance to support further growth, productivity and employee engagement. As Google authorized reseller in Oman, TradeMax provide Google Apps cloud services for S.M.Es in Oman.

Transparency: Making the IT portfolio more transparent to enable more efficient and effective IT governance.
CLOUD COMPUTING SYSTEM

Complete integrated platform for building and managing cloud services Businesses are adopting cloud 5 times faster than IT operations. Business users recognize the cloud's advantages:

1. In speeding innovation
2. Accelerating business processes
3. Reducing time to revenue
4. The idea of going to a portal to request a service that is instantly provided has innate appeal. It's quick.

But enterprises and service providers seeking to build a cloud environment are confronted by piecemeal, fragmented solutions. These solutions can lead to the same complexity, security issues, and management costs organizations seek to avoid. To fully capitalize on the promise of cloud computing, you need solutions that address critical challenges:

1. Private, public and hybrid support
2. Unified service delivery across cloud and traditional IT
3. Broad ecosystem of applications, hypervisors, operating systems
4. Automated infrastructure to application life cycle management
5. Scale to meet unpredictable demand
6. End to end security

For more information on Cloud Computing Services in Oman, Contact TradeMax Team.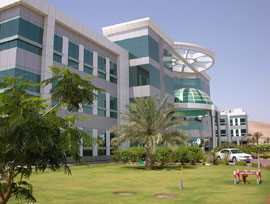 Digital Marketing Services